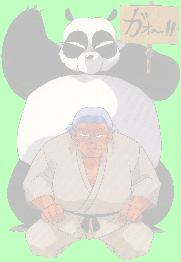 Name: Genma Saotome
Age: Approx. 30-40
Eyes: Black
Hair style: none, used to be black
Curse: Turns into a big panda
Weapons: hands, martial arts
Love Interest: None
Loved By: Nodoka
Rivals/Opponents: Happosai, Ranma, Ukyou

Genma Saotome is the father of Ranma Saotome, and is the one who's most responsible for Ranma curses while in Jusenkyo. He was the one who, during a decade-long training trip, insisted on going to Jusenkyo - a place he Thought was a training ground for the greatest marital artists. Fighting Ranma Genma was knocked into Shonmaoniichuan, or the Spring of Drowned Panda then he kick Ranma into another curse pool.